About Sheepskin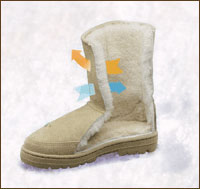 UGG uses only the highest-grade sheepskin available. Twin-face sheepskin is used in many of our core products. A piece of twin-face sheepskin has been treated on both the fleece side, and the skin side, providing the soft comfort UGG is famous for.
Grade-A sheepskin is extremely dense and soft, which provides a more comfortable and durable material. Lesser quality material and synthetics can be coarse, scratchy and non-breathable. Grade-A sheepskin breathes naturally, wicking away moisture, and allowing air to circulate freely.
Fleece breathes, wicks away moisture and allows air to circulate keeping feet dry.
Sheepskin is naturally thermostatic thus keeping bare feet close to your natural body temperature regardless of the temperature outside.
30 below – the science behind thermostatic footwear
Our fine woolen sheepskin breathes, wicking heat and moisture away to keep your feet dry and at body temperature indoors and out.
Sheepskin is a naturally thermostatic material. This means that while you're wearing sheepskin, it's automatically regulating your body temperature through the day. Because of this, UGG sheepskin footwear can be worn all year round.